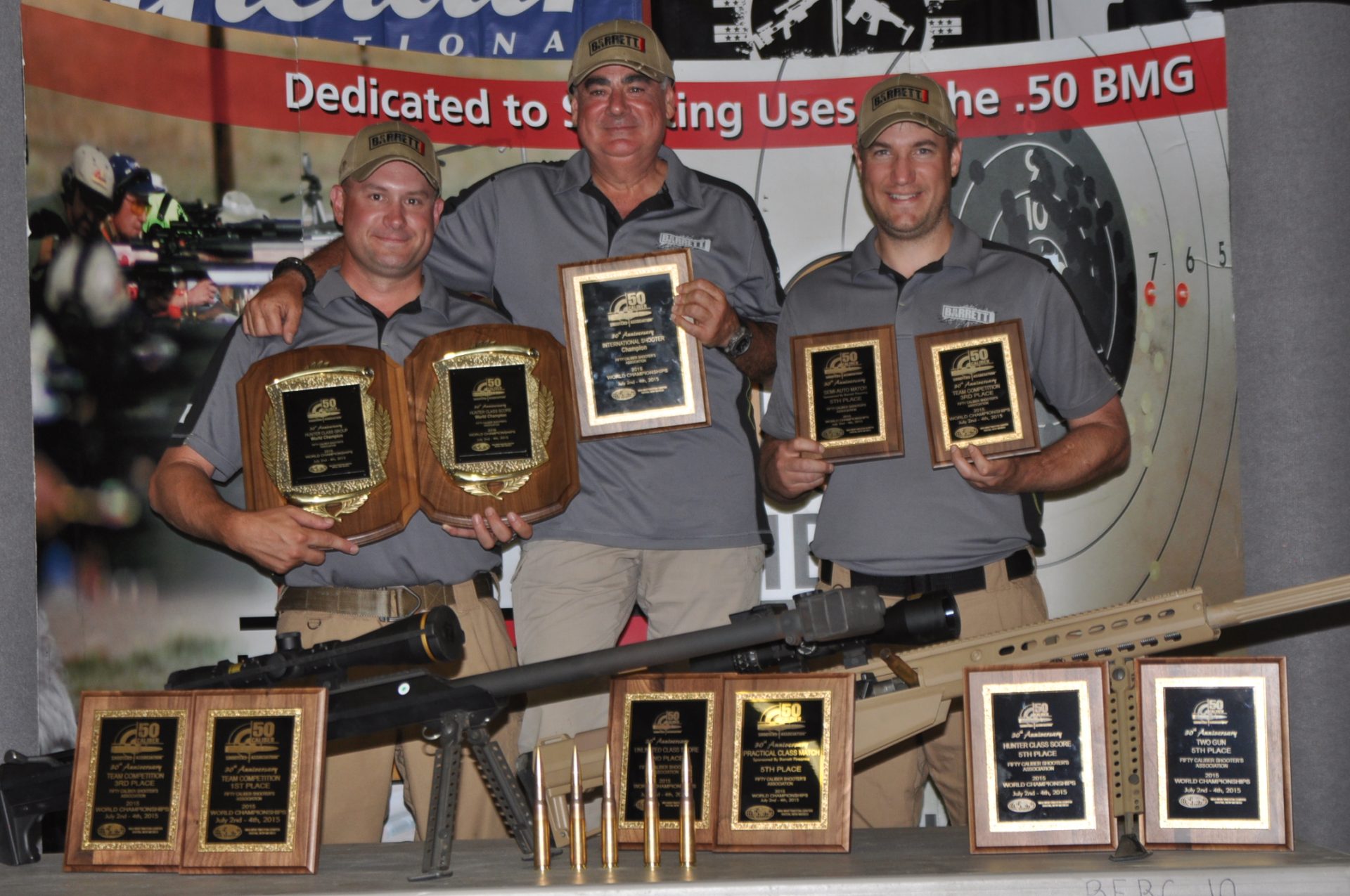 10 Jul

Barrett M99 Still Strongest of its Kind

In tradition of celebrating Independence Day over the 4th of July weekend, the Fifty Caliber Shooters Association (FCSA) held the annual 50 BMG World Championships. The competition was held at the NRA Whittington Center in Raton, New Mexico. Barrett Rifles was successful in bringing home eight awards, including two first place trophies. Shooters Jeff Burch and Darik Bollig, both sported Barrett Model '99s at the competition.

Burch is the 2015 Hunter Class FCSA World Champion. In this class, Burch placed 1st overall scoring 285 – 7x and with a group score of 9.542", also placing 1st. Bollig placed 5th overall with a score of 280 – 6x and placed 6th in group with a score of 13.375".

In the Unlimited Class, each shooter was given 30 rounds and 300 would result in a perfect score. Burch scored 288 – 10x placing 2nd overall and a group score of 11.365" placing 10th overall. Bollig placed 10th with a score of 279 – 9x and a group score of 13.354" placing 14th.

In the Team Match Burch and Bollig were apart of team Thunder Ammo Two placing third. Burch carried the team with a score of 285 – 7x and a group score 9.542".
Burch also placed 5th overall in Two Gun out of 57 two gun shooters. His best group scored 6.938".

In the 600 yard match there were three events: Practical, Semi Auto, and a Two Gun Combined Score. In the Practical, Bollig placed 5th with a score of 139 – 2x and Burch placed 6th with a score of 137 – 4x. In the Semi Auto Burch and Bollig used a Barrett M107A1 suppressed rifle. Burch placed 5th with a score of 112 – 1x. In the Two Gun Combined Score Burch placed 2nd with a score of 249 – 5x and Bollig placed 5th with a score of 238 – 2x.
Overall, the event was a huge success and brought together the world's best 50 BMG shooters. The Model 99 is very accurate, single shot fifty-caliber rifle. Designed in 1999, the rifle still proves today that it can hold its own when it comes to accuracy.