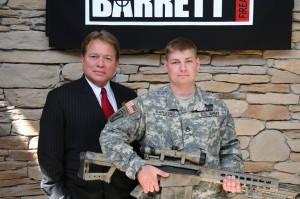 16 May

Sergeant Ranstad honored by TN State Legislature, visits Barrett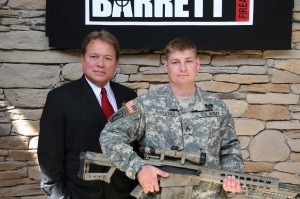 7 Apr 2010
Sergeant Nick Ranstad, 32, is a former sniper who holds the United States Army record for a confirmed long-distance kill.  Firing a Tennessee-made Barrett M107 in Afghanistan, the young soldier recorded the shot of over 1.3 miles on 2 January 2008 near the Pakistan border as he was helping to protect American soldiers while keeping the enemy from transporting weapons and supplies.
Now stationed at Fort Bragg, North Carolina, Ranstad recently visited Barrett Firearms Manufacturing in Murfreesboro to see first-hand how the world-famous rifles are made.  He was also honored by the Tennessee General Assembly in Nashville with a standing ovation for the remarkable feat and heroism.
He recalled that day in Afghanistan, "My platoon was manning Checkpoint Delta.  I had just come off duty and was about 20 minutes into a nap when my spotter informed me that four enemy insurgents had been sighted at about 2,100 meters."  The rest is history.
A native of Minnesota, Ranstad as a youngster was fascinated by the military.  When about 14, his father –Bruce Ranstad –helped produce a home movie titled "Nick Swartzenegger" where the Army wanabe dressed in camouflage, painted his face, and headed out on a hostage rescue mission.
The senior Ranstad said that he and Nick discussed the military many times since his family has a long history of military service; a great-grandfather was in the Army during World War I; a grandfather served the Army in the Korean War and later was an Honor Guard at the Tomb of the Unknown Soldier.  And, Bruce Ranstad, the father was in the Navy.
When the younger Ranstad joined the Army he initially wanted to be in a Tank Platoon, but nothing was available.  His second choice was a Cavalry Scout or nothing.  The recruiter agreed and he was assigned to a sniper school.
Sergeant Ranstad later proved himself with the long gun; earning the coveted German Schutzenschnur Silver Aiguillette Medal, missing the Gold Medal by just one-point.  Only a small handful of U.S. soldiers are invited to compete for the prestigious honor, which is one of the few approved foreign awards to be earned by American service personnel.
Ranstad was featured on the cover of 'Soldier of Fortune' magazine in the June 2010 edition along with his story inside the publication.  Also, his Army uniform worn that day in 2008 while on duty in Afghanistan is on permanent display at the National Rifle Association's Firearms Museum in Virginia.