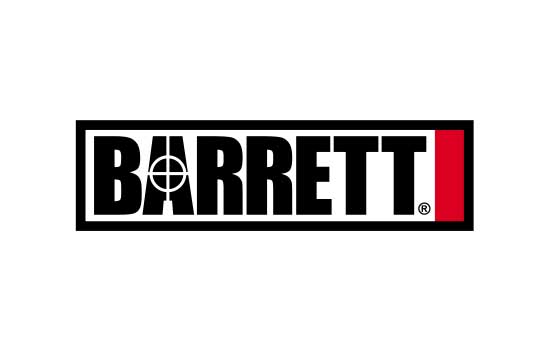 27 Apr

Barrett® Partners with Techwear USA® for New Collection of High Performance Made in the USA Shooting Jerseys and Apparel

Barrett announced that it has entered into a licensing agreement with TechwearUSA to design, manufacture and market a Barrett branded collection of high performance jerseys, jackets, fleeces and accessories for today's shooting enthusiasts.  The initial line debuted at the 2018 Shot Show and will be showcased again at the upcoming NRA Show.   This custom Made in the USA collection uses advanced performance fabrics to keep enthusiasts comfortable and performing at their best in any environment.   Each product has been hand-crafted and uses the finest fabrics and performance patterns.

"TechwearUSA is very excited about our partnership with the iconic and aspirational Barrett firearms brand, a world leader in large-caliber rifle design and manufacturing," said Alexis Lasser, Co-CEO of TechwearUSA.  "Barrett's passion for quality, performance, innovation as well as their continued effort to think outside the box and explore ways to constantly improve are mirrored in our passion for designing and manufacturing the finest and most innovative apparel that will make you look and feel like a pro."

The launch collection is one of a kind custom designed offering that includes 9 initial apparel products that perform to the highest standards, is comfortable and looks great.  The line offers a classic competition Premier Polo with proprietary Techstatic fabric for lightweight moisture management, Short-Sleeve Classic Crew-Neck and NCS competition jerseys made to keep you cool and comfortable on and off the range as well as fleece apparel made with a special fabric that is super soft and lightweight for optimal performance while practicing or competing.

"Barrett enthusiasts are passionate and expect quality and performance when a product bears our brand name," said Chris Barrett, President.   "We believe our licensing partner, TechwearUSA, is the premier provider of custom jerseys to the competitive shooting market and is known for intelligently designed apparel made of the finest quality fabrics and construction – all made in the USA."

For more information and purchasing information, visit www.techwearusa.com to see the initial collection of high performance Made in the USA Barrett apparel and make sure to keep checking as additional designs and accessories will be released over the coming year. To learn more about Barrett products, visit www.barrett.net.

About Barrett

More than thirty years ago, Ronnie Barrett built something no one thought possible – a shoulder-fired .50 caliber rifle so innovative, the Army itself would sing its praises. From sketching his designs at the dining room table to working with a local tool and die maker to create parts that didn't yet exist, every millimeter of the Model 82 was a direct result of Ronnie's passion for the ultimate firearm. Barrett is now the world leader in large-caliber rifle design and manufacturing and their products are used by civilian sport shooters, law enforcement agencies, the United States military and more than 73 State Department approved countries across the world.

About TechwearUSA

TechwearUSA produces the world's finest custom Ink Dye Sublimation performance apparel, using the highest tech fabrics available. TechwearUSA is high-tech, customized apparel built for your passion. Our design team works with you to create a brilliant, custom and personalized design.

Barrett® high quality dye sublimation jerseys and performance gear is manufactured in the USA and sold by TechwearUSA under a Trademark License Agreement with Barrett Firearms Manufacturing.