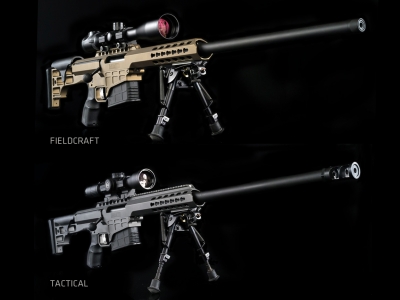 01 Jul

Announcing the Model 98B® in Tactical and Fieldcraft

(Murfreesboro, TN) Barrett, a company internationally known for providing high-end firearms, optics, and training, introduces to the commercial market the Model 98B Fieldcraft and Tactical. Chris Barrett's original Model 98B has been further refined into an even more user adaptable precision rifle, now chambered in .300 WIN MAG, .308 WIN, 7mm REM MAG, 6.5 Creedmore, and .260 REM as well as its original .338 Lapua Magnum.

The new model also boasts a lighter receiver design, advanced barrel attachment for improved accuracy, and incorporates the new KeyMod interface at the 3, 6, and 9 o'clock positions for added configurability. Even with the skeletonized profile for lightening, the felt recoil remains mild and comfortable. The Tactical model offers extended mounting space on the optics rail, a Tungsten Gray or Black receiver coating and a highly efficient muzzle brake for recoil reduction. For the outdoorsman, the Fieldcraft provides a lighter weight option in hunting calibers, environment adaptable colors and a thread protector in place of the muzzle brake.

The standard features of Model 98B still remain: user adjustable match-grade trigger system, adjustable cheek piece, 10 round polymer magazine, thumb operated safety, multiple barrel lengths and smooth action bolt guides.

The Model 98B Fieldcraft and Tactical adapts to the user's needs and real world applications. This purpose-built system provides accuracy, configurability and a streamlined ergonomic design that feels like an extension of your own body. Starting at $3,995 you will be able to experience the ingenuity of Barrett engineering, design and performance.