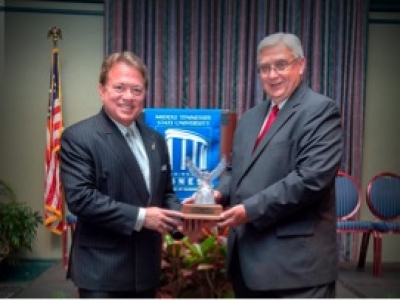 20 May

Ronnie Barrett Receives the Spirit of America Award
Middle Tennessee State University (MTSU) recently presented Ronnie Barrett with the Joe M. Rodgers Spirit of America Award. Ronnie is the founder and CEO of Barrett Firearms Manufacturing, Inc., located in Murfreesboro, TN. The honor is given to a businessman who has demonstrated the best of the spirit of America through significant contributions in government, education, and/or civic and charitable organizations.
Ronnie Barrett is a Murfreesboro native whose entrepreneurial drive and self taught firearms knowledge led to a multi million dollar business that serves all branches of the US military as well as over 73 different allied governments. Mr. Barrett has been involved in many local and national philanthropic causes and donates time to students of the MTSU Business College by engaging in speaking events to encourage entrepreneurial minds by telling his American success story.
Past recipients of the Joe M. Rodgers Spirit of America Award have been:
Charlie Daniels
John R. Ingram
Joel C. Gordon
Jack O. Bovender Jr.
Andrea Loughry
Governor Winfield Dunn
Tommy Smith
Bud Wendell
Jack Vaughn
Aubrey B. Harwell Jr.
Bob Corker
Marvin Runyon