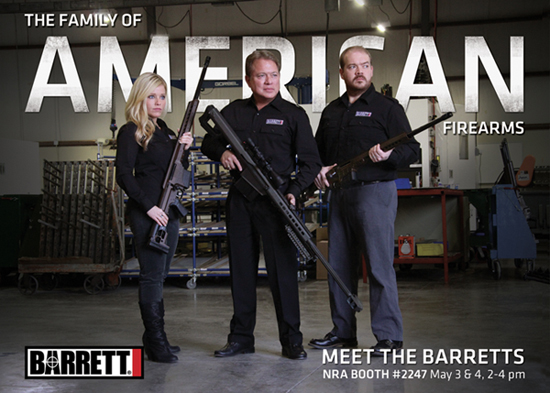 23 Apr

Meet the Barretts at NRA

Meet the Barretts at the 2013 National Rifle Association Annual Meeting and Exhibits. On May 3 and 4 from 2:00 to 4:00 pm, Ronnie Barrett, his son Chris and daughter Angela, will be in in booth #2247 to meet fans, take photos and sign autographs.
The NRA Show will feature more than 500 exhibitors covering over 400,000 square feet of exhibit hall space, educational seminars, celebrities, and fun filled special events.
Barrett is a family owned and operated company specializing in high performance rifle systems and accessories. Barrett manufactures rifles, ammunition and optic accessories in addition to training for civilian sport shooters, law enforcement agencies, the US military and more than 73 State Department approved countries across the world.