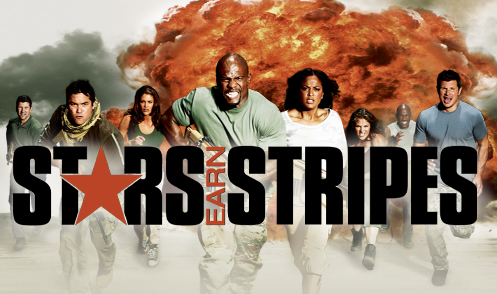 13 Aug

Stars Earn Stripes

The MRAD and REC7 rifles will be featured in six episodes (Aug. 13, 20, 27 & Sept. 3) of NBC's "Stars Earn Stripes," the new reality series where eight celebrities will face the challenges of real American Heroes. Premieres tonight at 8/7c.
In this fast-paced competition, the eight celebrities will gather at a remote training facility where they will be challenged to execute complicated missions inspired by real military exercises. From helicopter drops into water to long-range weapons fire, the contestants will be tested physically, mentally and emotionally. Each will be paired with a special operative from a military branch or one of our first-responder forces, including former U.S. Army Delta Force and Green Berets, U.S. Navy SEALS, U.S. Marines and police officers, who train alongside their partners and compete in the missions with them. Each of the teams is competing for a cash prize on behalf of a military, veterans or first-responder charity.
Hosted by former NATO commander General Wesley Clark (retired) and Samantha Harris, "Stars Earn Stripes" is an action-packed competition show that pays homage to the men and women who serve in the U.S. Armed Forces and our first-responder services. The cast includes four-time undefeated world boxing champion Laila Ali, actor Dean Cain ("Out of Time," Five Days of War"), actor and former National Football League player Terry Crews ("The Expendables 2," "The Newsroom"), multi-platinum recording artist, actor, producer and television personality Nick Lachey (NBC's "The Sing-Off"), Alaska businessman and four-time Iron Dog snowmobile race champion Todd Palin, NBC's "The Biggest Loser" trainer Dolvett Quince, Olympic gold medalist Picabo Street, and WWE diva, Eve Torres.
Committed to hiring recent vets on the crew, "Stars Earn Stripes" hopes to inspire other employers throughout the country to make similar commitments to our returning heroes to show audiences just how incredible these heroes' missions really are.